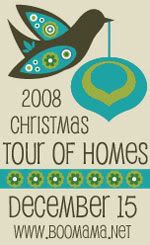 If you are a regular reader you may have already seen a few of these pics. If you are new, Welome! Make yourself at home!
First, let me say that I was so excited when I heard about BooMama's 2008 Christmas Tour of Homes. For nosy people like me it's so great to peek into other's homes without having to cruise by your house trying to casually look into your open, well-lit windows. Second, let me say that I really have NO BUSINESS spending time taking pics and blogging when I am drowning in clutter, dirt, grime, unwrapped (and unbought) Christmas gifts, etc. It's confession time...I just cleaned the parts of my house I wanted to take pictures of. I KNOW, shameful! Don't judge me.
This year I have really scaled back my decor in the name of sanity. Thanksgiving came so late this year there just hasn't been enough time to drag it all out and I must admit I lack the willpower to put it out knowing that I'll just have take it all down again. I'm a SAHM but I recently started a little
business
here at home and my first show was Dec. 6th. Yep, that was a shameless commercial plug.
So here's my tree:
and my
Nester-
inspired garland:
These guys make me smile:
And these little guys:
I really like my entryway:
This is the beautiful nativity that my mother-in-law gave me:
These are a few of my favorite things...and now you're gonna have that tune stuck in your head too.